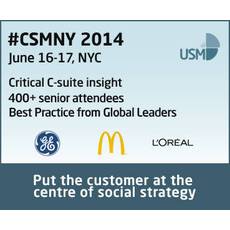 After two days of conversations about social media with 25 of the world's largest brands, perhaps the nicest benefit is that you don't hear the same conclusions or experiences over and over. For the third year in a row, I had the chance to moderate and lead the Corporate Social Media Summit in NY – which brought together brand marketers from Whole Foods, NASCAR, McDonald's and Century21 to share the same stage.
During the event, more than twenty panel discussions focused on everything from internal structures and training to content creation and lead generation.  The hashtag for the event #CSMNY was even a trending topic on Twitter – offering perhaps the ultimate proof of short term social virality … being targeted by Twitter spam bots trying to usurp the trending topic.
From the stage, though, there were many key themes that emerged from insights shared by speakers.  Here are just a few of those themes:
Smart Brands Don't Care About Social Media. Yes, I am using an intentional link baiting headline for my first point – but across the first several conversations about "weaving social into the fabric of business," it was clear that the biggest brands are all thinking beyond the traditional idea that social is a place to create and distribute all kinds of media. Instead MetLife Head of eBusiness Amir Weiss, Adobe Exec Jeff Feldman and TradeKing CEO Don Montanaro  all shared stories of how the idea of creating a "Social Business" goes far beyond content creation or social platforms and requires a new way of thinking about how social impacts everything from employee engagement to customer care.
Better Timing Is Everything. For anyone who has worked on lead generation campaigns – the typical response rates tend to hover somewhere between 3% and 15% – so when Restaurant.com CMO Christopher Krohn shared that his post-dining survey gets a response rate of close to 40%, it raised more than  few eyebrows at the Summit.  What's the secret?  It turns out giving people the survey immediately after they finished dining rather than waiting 24 hours made a crucial difference in how likely they were to share their experience by filling it out. Later in the event, multiple brands shared similar learnings around the importance of producing relevant and timely content that was either inspired by media and culture of the moment, or by being findable in the exact moment that someone most needed it.
Motivate and Train Employees Through Content. It is tempting to think of creating content as purely a marketing tactic to reach customers who are seeking information or utility – yet some of the most powerful examples of content creation at the Summit came from brands who were actively using it to train or motivate employees.  Century21 CMO Bev Thorne shared that her organization actively uses internally created videos to train real estate agents on social media and answer the most frequently asked questions.  Whole Foods Director of Social Media Natanya Anderson also shared multiple examples of how content, leaderboards and curated showcases were used to inspire independent store owners and others to more actively use social media by rewarding and recognizing the best performing examples from across their network of locations on a weekly basis.
Find A Way To Improve A Bad Experience.  If there is one universal truth about moving, it's that no one likes it.  Packing all the things you own into boxes and then putting them on a truck (sometimes on your own) is never a fun experience. Yet U-haul Social Media Director Toni Jones shared a story of how her brand was able to turn that moment around by asking people to use the hashtag #myuhaul to share their photos of moving for a chance to be featured on the side of actual trucks in real life.  The promotion took off because it added an element of fun to an experience that usually is just the opposite.  In the process, the brand was able to make a deeper connection in an experience where usually people are given a forgettable experience by being treated as customers in a transaction and offered nothing more memorable to turn them into advocates.
Separate Content Creation From Distribution. It is easy to spend most of your time when it comes to content focusing on it's creation.  That is the hard part, of course.  Yet when it comes to getting the content in front of the right people, distributing that content can be almost as big of a challenge.  In a fascinating discussion between Huffington Post Brand Strategy Director Marcia Lesser, Marissa Pick from Euromoney and Amir Zonozi of Zoomph – one principle that emerged as being important was separating the act of creating engaging content from the process and method of distributing it.  Jen Lashua, Intel's Editor In Chief, shared a similar piece of advice – sharing that it is important to always try new pilot programs with untried platforms to see if they pay off.  Some may be better for content creation, while others may work solely for distribution.
Don't Forget Your Employee Advocates.  Across multiple panel sessions throughout the conference a mixture of brand marketers like Dan Lewis from Molson-Coors and several software providers all pointed to perhaps one of the biggest missed opportunities in social media … activating employees.  By one estimate, a core group of several thousand employees can generate the same reach as a million customers.  Yet brands are typically not good at giving employees ways to learn about marketing efforts or to help promote them.  Now there are more tools that allow for that to be managed centrally – and the ideal solution most speakers shared was some mixture of selecting the right tools/platforms and combining it with proactive and ongoing training.
Replace Big Data With Small Actionable Data.  Despite the popularity of big data as a buzzword, several speakers pointed out that the way they are making sense of data is by getting better at knowing what data to ignore.  Brands like Sprint, Whole Foods and McDonald's are all seeking new ways to slice the data they do collect into pieces that are actionable and have more value for particular audiences.  In many cases, this means pulling out different types of data and insights based on the audience you are aiming to share those metrics with.  As time moves on, more brands will likely focus on this challenge of reducing the noise within big data collection to real meaning from those numbers.  Once that happens, the value of data finally starts to translate into better insights to power marketing decisions.
Rohit Bhargava is the Chairman of the Corporate Social Media Summit, creator of the new B2B Social Media Marketing Certification program and a popular keynote speaker on business trends, social media and the future of marketing.  He is a two time TEDx speaker and has been invited to headline events in 27 countries around the world.