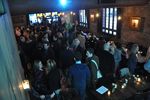 Yesterday evening I co-hosted a tweetup in New York City where Ford was unveiling the new Ford Fiesta and a brilliantly conceived social media program to get 100 influencers to take the car on an extended test drive for 6 months as part of the Ford Fiesta Movement. The event was a gathering designed to help put a more human face on Ford and talk about a new Ford car that many of the 20 and 30 somethings who showed up (and are the target market for the Fiesta) may not have known about.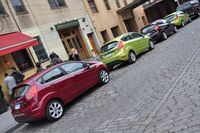 The effort is just one example of a greater shift that has been taking place at Ford over the past year as the company has worked to not only reshape its image in the eyes of the American public, but also to change the way that they tell the story of Ford. It is a rich story to tell, one that is linked to the history of America in a way that few companies can authentically claim. And despite being in the maligned automotive industry that seems a permanent fixture in the negative news cycle, things are changing at Ford. How are they managing to do it? Here are six elements to consider:
Having a strong story to tell. In the midst of all the scrutiny, Ford is (and has been) shifting their image from stodgy truck maker to a more forward thinking company making cars that the American public actually want to drive. The relaunched Taurus was a hit, winning top safety ratings – the Flex has had rave reviews, and other cars like the Fusion and Focus are winning many fans.
Tapping the passion of employees. Ford has always described itself as a family, and employees often demonstrate a stunning loyalty to the company … even describing themselves in terms of the cars they have always driven. The old mode of communications would be to keep all these voices silent, and instead only authorize a small group of people to speak on behalf of Ford. Today many of these voices are being encouraged to speak and share their thoughts and experiences online.
Making a commitment to social media. Social media has played a big part in this evolution to using the voices of "accidental spokespeople." Scott Monty was hired nearly a year ago as the Head of Social Media for Ford and has actively been offering a voice to the brand and adding social media as a core element of all their communications.
Getting out of Detroit. One of the most powerful effects of this shift has been a willingness for even the most senior members of the management team at Ford to get out of Detroit and meet customers. Ford's President of the Americas, Mark Fields and Ray Day (the VP of Communications) even came to the Tweetup last night. Alan Mullaly, CEO of Ford showed up to a blogger event during the Consumer Electronics Show (in a sweatshirt instead of a suit and tie!) and stayed graciously for nearly an hour answering questions and doing podcast interviews.
Capitalizing on being Ford. There are not many companies that are as visibly at the epicenter of the American economy as Ford is. Like it or not, the success or failure of Ford is seen by many as a symbol of the success or failure of America. From a communications point of view, this is a major positive … for the simple reason that the fate of Ford matters to people in a way that AIG or Enron just don't (unless you're a shareholder, of course)
Overcoming the American ego. One of the most interesting things for me has been Ford's recent willingness to take cars that have been huge commercial successes overseas and introduce them to the United States market (like the Fiesta and the Transit Connect). For many years, most of Detroit would never have considered taking these foreign cars and allowing them to be revised and sold in America. Finally ego and turf wars are taking a back seat to solid business decisions and introducing cars best suited to succeed.
Any other lessons you think Ford has learned which are contributing to their growing reputation?  Or if you think one (or all) of my points are completely off base, leave a comment and share that point of view too.

Disclaimer: I currently work for Ogilvy and Ford is a client of our team. The Ford Fiesta Tweetup was an official party organized as part of our efforts with Ford and I was on the team that helped organize these events. I have NOT been paid or compensated by Ford to write this blog post, though – and the opinions I share in this post are my personal views only and don't represent what Ogilvy, WPP or Team Detroit thinks about Ford.