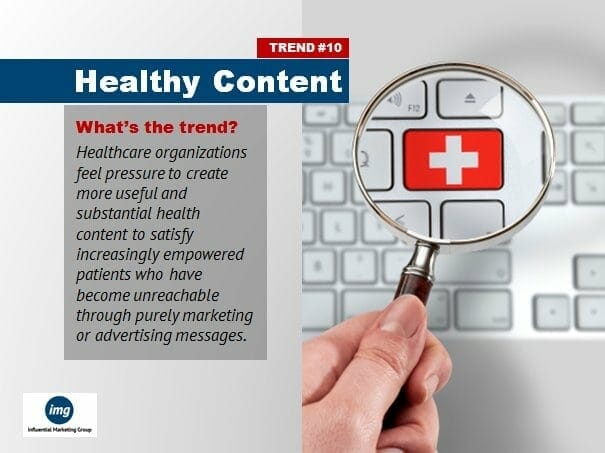 What's the Trend?
Healthcare organizations feel pressure to create more useful and substantial health content to satisfy increasingly empowered patients who have become unreachable through purely marketing or advertising messages.
The "empowered patient" is a trend that has been growing for the past several years, and now historically slow moving healthcare organizations are finally starting to address this new customer by creating more content to answer real questions and provide value instead of relying on empty marketing messages. In 2013, this pressure to add more value and create more content will drive more healthcare organizations to partner with content creators, identify the people internally who can create content and try to find other ways to satisfy the demand for more and more quality information.
Who should care?
Anyone working in the healthcare industry will be dramatically affected by this trend, from communications to healthcare professionals. There will also be a huge opportunity for those organizations who can follow the path of early content pioneers like Mayo Clinic and Cleveland Clinic to look at content publishing as a core patient engagement strategy.
This trend was featured in my full "15 Marketing Trends In 2013 That Will Change Your Business" report. To see the full report for free online and learn about the ebook action guide for tips on using this trend in your own marketing strategy, visit www.rohitbhargava.com/15trends.