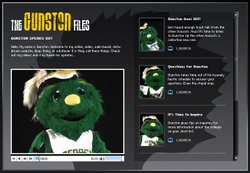 After reading a post on one my favourite marketing blogs, Ypulse – I was recently pointed to the George Mason University admissions website, MasonMetro which struck me as one of the best examples I have seen of connecting with high school students in a memorable way and encouraging them to consider applying. Contrary to the typical student testimonials and bad marketing writing that you would typically find on many admissions websites, the MasonMetro site shows the personality of the school. The most entertaining part of the site are the Gunston Files, a series of short videos recorded by Mason's mascot – Gunston. In one, he makes fun of all the other local school mascots with memorable one-liners such as UVA's Cavalier mascot who he describes as "two musketeers short of a candy bar" – and Maryland's Terrapin, about whom he says "this is too easy – who could a turtle intimidate … a snail?" Aside from these comic observations, what makes this site so powerful as an admissions tools is the combination of several choices:
Take on the competition directly – Schools have a rivalry, but often admissions sites try to mask it by only talking about their academic partnerships with other schools in the region. By having Gunston take on the competition, they are sending the message loud and clear that they are not afraid of anyone and think GMU can stand beside other schools in the region.
Integrate social media – From Gunston's profile page on MySpace to the ability to subscribe to the LaunchPad podcasts, the site offers content in multiple formats for a generation of high schoolers who have grown up used to getting content in this way. Net result: the admissions messages break through the clutter.
Show, don't just tell – By using lots of video across the site, Mason can portray what life as a student is really like – from attending the classes, to living on campus. This allows the site to offer more than just brochure-ware, and takes you inside the Mason experience.
College admissions is a competitive industry, and the Washington DC market has lots of options. This site successfully helps Mason to stand above the crowd, though it is probably less well known than schools like GWU, UVA and Georgetown. Nonetheless, the core marketing message of the site breaks through and is directly featured at the end of each of Gunston's video shorts when he declares "Now go away and do not come back until you have applied to Mason." That kind of fun and direct message is sure to win over the college-bound.
Note: I did my Masters degree at Mason several years ago, but only became aware of this site after reading about it on Ypulse and am not part of any alumni events or groups for Mason.