If there is one thing that is dramatically clear from this week's Consumer Electronics Show in Las Vegas, it is that the future is definitely not about mobile. Or smart televisions. Or super slim digital cameras.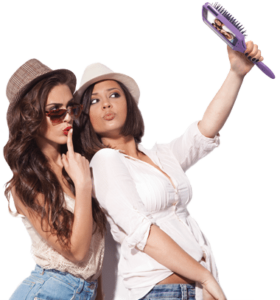 Instead of these mainstream consumer gadgets, the products getting attention this week are wildly diverse … from wifi enabled "smart kettles" to "selfie hair brushes" to mood tracking wrist straps.  Amidst the silliness of sometimes overly quirky products, though, is a quantifiable consumer electronics trend that is poised to eclipse the "Internet of things" and offer a huge opportunity to marketers paying attention.
This week Shawn Dubravac, chief economist for the Consumer Electronics Association, released a perfectly timed book called "Digital Destiny" and has been speaking frequently about the trends that will change the world of technology and consumer behavior in the coming year.
One of his predictions is that the "Internet of things, making objects smart and connected, will give way to the Internet of Me" where this connection of things will relay data about your usage in order to inform behavior change or action in the real world.
The single biggest theme emerging from CES is the importance of this data feedback loop from our products back to ourselves.  We are moving from simply being the creators of data through our behavior to the real time consumers and owners of our own data – and it has big implications for your marketing strategy in 2015.
This is not another "big data" trend.
You have probably heard lots about that over the past year.  The problem is, most of the discussion about big data usually focuses on a single theme: how companies can analyze and use the vast amounts of data they are now able to collect in order to create better more personalized experiences for customers.
At the same time, more physical retailers are making moves to integrate technology into their locations – from synced mobile apps to so called "magic mirrors."  The growth of omnichannel retail (creating a seamless customer experience across all channels) is leading to what some analysts have started calling the "digical" blending of digital and physical experiences.
All of this is helping brands get better at collecting and analyzing big data. The missing link is connecting all of this brand owned data with consumer owned data.
In the future, the best customer experiences will be those that can integrate the data a brand collects on a customer with the data a customer chooses to share in order to improve their own experience.
One of the facts of the Internet of things and the rise in wearable technology is that consumers have the ability to collect data about their own own behaviors in a way that was never before possible. Thanks to concerns about data privacy, they also now have the keys to unlock this data from the platforms where it is collected and choose to share it in ways that can benefit them.  It's just not that easy to do … yet.
Just imagine what could be possible if customers could easily share their own self collected data with you in order to improve their own customer experiences?
Athletics sellers could use a customer's self collected fitness data to customize the right product fit. Past restaurant booking history from Open Table or previous reviews on Yelp could become assets for frequent foodies to negotiate VIP treatment.
Big data is no longer attached to platforms or products or brands.  In 2015, that data will increasingly be unbundled and vast new data sets will belong to consumers … created by those seemingly silly products like wifi tea kettles and mood tracking bracelets.
Consumer owned big data will rival brand owned big data – and the key will be finding ways to link them together to create more value.
If consumers could be enticed to share this data, marketers could also unlock its power to augment their own data collection and create unheard of new customized promotions and products. An early review of early CES briefings from Forbes contributor and marketer Jonathan Salem Baskin lamented that the early tech showcases seemed to be "all tech and no people."  Watching the parade of products introduced this week, it is hard to disagree.
Yet the most significant trend from this week may have little to do with the products themselves, and far more to do with nuanced, personal, and granular detail they are letting consumers collect about themselves and their own habits. The possibilities for what marketers could do with this type of data is nearly endless.
Of course data, in any form, is only useful if we can earn the right to request it from consumers, and then find authentic ways to add value to their experiences by using it.
Rohit Bhargava is a trend curator and the author of five best selling business books.  He is currently writing his 2015 Non-Obvious Trend Report showcasing 15 trends that are changing how we buy, sell or believe anything in the coming year.