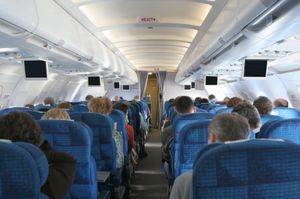 We spend a lot of time in marketing thinking about how we might engage our customers to pay attention to what we have to share. In the best cases, we are not just interrupting them, but instead offering a message and content that solves a real problem. Nearly every time you might imagine this situation, though, your consumers are probably in the midst of living their daily lives. How might you change your strategy if your consumers were stuck in the same place and completely captive?
Last week as I sat on a United flight about to take off, I started thinking about the idea of a captive audience. You don't get much more captive (in every sense of the word), than when you are sitting in your seat waiting for a flight to take off. Standing in line for a necessary evil like mailing a package is another situation where a similar thought comes to mind. Yet if you paid attention to your daily movements, chances are you would find many other situations where you are a similarly captive audience – from checking your email to waiting in morning rush hour traffic. 
These captive audience moments are usually seen as a bad thing. We are conditioned to dread them. But what if you could transform that moment? The usual video from the CEO of United on every flight, for example, shares the same faceless greeting and message of thanks for choosing to fly.  What if they changed it every month, or every week or even every day? Frequent travelers (those presumably most important to United) would be welcomed with a revolving message, like a changing headline at the top of the NY Times each morning.
A similar principle drove some Ogilvy colleagues to work with Coca-Cola to create "Rush Hour Cinema" in Bogota, Colombia – where they invited drivers stuck in rush hour to watch a short film on a big screen while handing out popcorn and cokes to drivers:
The bottom line is that we may be creatures of habit, but that doesn't mean we wouldn't welcome something to liven up that habitual behaviour.  If you can find a way to do that, you might transform a captive experience into one where you can build a deeper connection with your business.