About two years ago, there was a single word that could strike fear into the heart of any retail brand executive – "showrooming." The term popularized the increasingly common shopping behaviour from consumers of going into a physical store to try out and test a product before going online (often to an ecommerce only retailer like Amazon) and completing their purpose.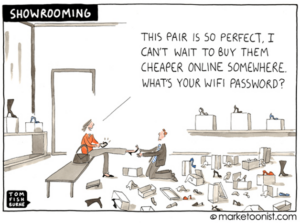 Was showrooming going to destroy the retail business?
This was one of the main questions speakers tackled at the National Retail Federation's annual Expo event early that year. And the research didn't look good. Around the same time of the show, the IBM Business Value Global Consumer Study studied over 30,000 global consumers and concluded that nearly 50% of all online purchases made by consumers followed some type of showrooming.
The numbers alone were enough to cause a ripple of panic for any retailer making big investments in maintaining a bricks and mortar location and losing significant revenue to online sales. How could they fight back?
The Rise of Omnichannel Retail
Several panels at the Expo offered some relatively predictable coping strategies and recommendations – from investing in a competing ecommerce store to somehow improving the retail customer experience. Retailers at the show left knowing they had to do something or risk facing obsolescence.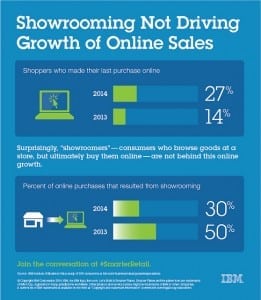 A year later when IBM came back to present the results from the 2014 edition of the same report – the data showed an unexpected shift. Even though consumers were increasingly shopping online, the data showed that only about 30 percent of all online purchases actually resulted from showrooming — a puzzlingly steep drop.
The study concluded that showrooming was no longer a top threat for retailers. The real question, though, was how could consumer behaviour change so dramatically within a year?
The truth was, it hadn't.
Instead, retailers were increasingly becoming smarter about engaging what the industry had already started to call a "omnichannel" approach to retail … creating a seamless online and offline experience for customers. Some even started calling this fusion of physical retail with digital a "digical" experience.
How Experiences Matter More Than Shopping Bags
Buzzwords aside, 2014 was the year that many pioneering retailers started to evolve how their retail stores could create experiences that inspired more brand loyalty and affinity … increasingly without selling any products in the stores at all.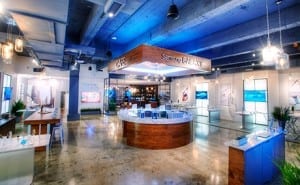 Today, electronics brands like Samsung are building out retail experiences like the Samsung Galaxy Studio in New York's fashionable SoHo shopping district as a way to showcase products and innovations without actually selling them directly to customers (which still mainly happens through third party retailers).
Intel took a similar step last year by partnering with a retail space called STORY created by entrepreneur Rachel Shechtman as "a retail concept that takes the point of view of a magazine, changes like a gallery and sells things like a store." The store featured a showcase of wearable technology products using Intel's technology as a component.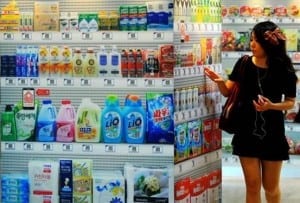 On a global level, retailers like Diesel, Nordstrom and Neiman Marcus have all been experimenting with "smart mirrors" for many years to bring more interactivity to the process of trying on and buying clothes.  Outside fashion, grocery retailer Tesco has also been piloting tests for over four years now with virtual shopping experiences designed for urban areas to allow busy commuters to purchase items like laundry detergent and deodorant that no one really wants to carry home.
Even the world's largest retailer is looking at the rise of this sort of branded showroom experience as an opportunity to grow sales. During a recent interview, Walmart President and CEO of Global eCommerce Neil Ashe promised that showrooming "is not a bad word at Walmart … if people want to showroom, then we are going to be the best darn showroom in town."
As more brands consider using a retail space as a showroom to build brand affinity and educate customer rather than directly sell, they are also rethinking one of the most fundamental assumptions of traditional retail: that consumers want to walk out of a store carrying their purchase.
The $1 Million Dollar Lobby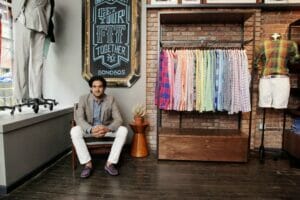 When popular ecommerce fashion brand Bonobos founder Andy Dunn decided to sell shirts from his website, he also built several fitting rooms in the lobby of the brand's headquarters to allow customers to try them on. Within months they were on track to do $1 million in sales directly from the lobby and he realized the potential of having a physical presence to augment their online sales.
By the end of 2014, the brand had opened ten shops across the United States with plans to add 30 more in the next three years. The vast majority of orders still come through the online system. Dunn's major insight from that lobby experience was that most of their customers (almost entirely male) usually didn't mind leaving a store without a purchase in hand.
It is the perfect example of a Reverse Retail experience: one that was designed by a brand to create affinity and inspire a purchase that could be completed online directly from the brand and fulfilled later.
This approach of merging the physical and digital experiences together is one that global head of shopper marketing at global ad agency JWT Ron Magliocco calls "living websites" – where an increasing number of shops flip the traditional retail model and simply become showrooms.
"Why would a store today stock 500 slightly different cameras?" Magliocco asked in an interview last year, "that's what the Internet is for."
Why The Reverse Retail Trend Matters:

For years when retailers talked about the promise of creating "multichannel experiences" for customers, it basically meant having an online site as a way to avoid losing sales to competitors while mainly focusing on sales through retail locations … and the numbers supported that choice.
In 2015 and beyond, the connection between physical retail experiences and online buying is starting to reverse itself. The real life experiences are tailored to deepen brand engagement, and offer something memorable and valuable. The purchase itself, and how it gets fulfilled, is increasingly moving to the online environment where the "endless shelf" allows retailers to provide exactly what consumers want customized to how they want it.
Thanks to increasing speed and capabilities for home delivery, this entire process becomes more and more seamless for customers so they can have goods delivered almost immediately, enjoy them soon, and leave a retail store with a memorable and shareable experience rather than a shopping bag.
This blog post was excerpted from a chapter on "Reverse Retail" from the Wall Street Journal best selling book Non-Obvious.