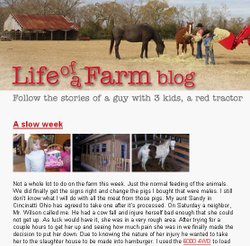 For any marketer still questioning the value of blogs and social media for their brand and customers, here's a case study worth paying attention to. Mahindra has been getting some great press recently for stealing market share from Deere. Aside from the impressive fact that they have managed to take on a longstanding "American" brand in a category where being American seems the first criteria to consideration – the way they are doing it is even more interesting. If you think about it, what Mahindra is selling has a lot of similarities in features as some of the big trucks from Ford, Dodge or Honda. Power, dependability, strength, utility, etc. In many cases, they are probably even targeting the same audience. Yet while all the truck companies insist on bombarding mass audiences with expensive TV ads of trucks being punched by robots or eaten by the LochNess monster (and spit out again), Mahindra has a different strategy which is summed up in two quotes from their website:
82% of folks who've owned both a Mahindra and a Deere say they'd purchase another Mahindra
97% of Mahindra owners are satisfied with their tractors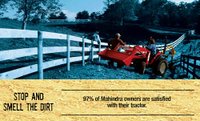 To take on a deeply entrenched brand like Deere, you have to be able to go head to head (and win). As their tagline says, the ultimate aim is to "turn Deere owners into Mahindra believers." To keep customers and encourage positive word of mouth – you need to have satisfied customers. In a way, these are the two most important statistics any brand should aim to maximize – and Mahindra has focused their energy there. Brand success today means more than just having customers and owners, it means having "believers." The power of social media is to help brands engage these believers and give them tools to share their stories with others and amplify their voices.

The Life of a Farm blog fits into this strategy perfectly. It's the story of a regular guy living his daily life on a farm, with the bright red Mahindra as a big part of it. It's the ultimate brand product placement, but also offers a way for new customers to connect with the "Americanness" of the Mahindra brand and associate with it. It's a brilliant testimonial for the brand in a category where peer reviews are likely to matter highly.
Putting this together, Mahindra's success and marketing approach incorporating word of mouth and social media may offer some lessons for not only Big Auto in Detroit, but other marketers who still believe their customers aren't reading blogs (or sometimes even on the Internet). If anyone asked you to create a marketing plan for targeting farmers to purchase tractors, would you consider using a blog and creating an online community? If not, pay attention to Mahindra – because it's working. Unless, of course, you still think blogging is just for teens, political fanatics, celebrity gossipers, techies … and farmers.
Update (02/01/07): Check out Jonathan's post over at Digital Street Journal for additional background on this campaign and blog.