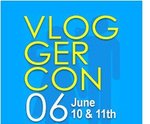 This weekend I am here in San Francisco for Vloggercon 2006, a small video blogging conference I have been working with over the past few weeks as a sponsor (through both Ogilvy and Intel) as well as an enthusiastic supporter of getting more people into vlogging. Aside from being the first time that I have felt "old school" for just having a blog and not a vlog, the event has also brought some more clarity for me in terms of who these new and emerging vloggers are … and who they aren't. Walking into the event, it's easy to see vlogging in terms of highly popular shows like Rocketboom – or a natural extension of the explosion of online video on sites like YouTube. As a blogger walking into the world of vloggers at Vloggercon – there are several big lessons I will be taking away:
Vloggers are different from filmmakers – Vlogs are not documentaries, are generally in an episode format, and many times offer unedited views of the world. Many vloggers don't aspire to be filmmakers or producers, although some do come from this world. They see vlogs as a different fluid medium where individuals involvement in the content is more important sometimes than production quality or scripting out the perfect stories.
Vlogs are borne out of necessity and passion – A common thread among many vloggers I spoke to today was their belief that they were filling a void in media today that would otherwise have remained empty. From publicizing hidden facts to just sharing home movies, these are individuals who believe that they are providing people with more relevant content that they will choose to watch instead of mainstream television. The phenomenon of "just watching what's on" will become a thing of the past as all of this new content increases in focus and quality. The only trick is bridging the gap between what is seen as PC/online content, and television content. Moving forward, technologies like Intel's Viiv platform may help to bridge that gap.
Vloggers want to find a business model – Unlike the vast majority of blogs which rely on Google Adwords to make a compilation of pennies, vloggers are thinking more broadly about advertising and making money from vlogging. Rocketboom's presentation today was standing room only, and for many attendees that I spoke to – "learning how they did it" was their primary reason for attending Vloggercon. As the 30-second spot continues to move towards death, vloggers are latching onto the one mainstream entertainment advertising tactic that seems to be gaining momentum … product placement. But product placement on mainstream TV can be too subtle, expensive or irrelevant to make the majority of advertisers feel as though they realized a good value. Vlogs can do better, through building content on shows around products, staying true to their message and moving much more flexibly. I am already planning on steering some of my clients towards this venue, while all but the smartest media planners continue to push their one size fits all focus on the upfront and other dying models of media planning.
That's just first impressions from day one of the event. Stay tuned for more tomorrow.