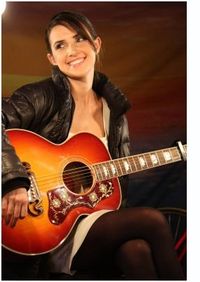 Ana Free is a singer and songwriter from Portugal who started her career with a simple idea. For the past three years she has been recording herself in locations ranging from her bedroom to regional concert stages singing cover versions of popular songs and her own original compositions accompanied by just her guitar and posting those videos on YouTube. Alone, that doesn't seem like anything countless other singers might have tried to do, right?
The difference is that this collection of simple videos on YouTube has gathered more than 20 million views and brought this relatively unknown singer fans from around the world – including more than 20,000 on Facebook. She was recently featured in a music video from the band Hands On Approach and self released her own album last year on CD Baby.
In a world where the music industry seems to face a new struggle almost every month and many in the music industry fear that the next generation of consumers are growing up with a perception that music is something that they should not have to pay for – what could Ana Free teach us about marketing, engagement and the potential future for up and coming musicians around the world? Here are a few lessons:
Share your beginnings. One of the most powerful things about Ana's story is that you can see the whole history of it on YouTube. All of her videos (including her first video) are available on her channel and watching them gives you the sense that you are seeing a talented musician mature with each video – and offers a personal connection to her story because you get to see it evolve.
Be authentic. A common theme in her videos is the authenticity with which they are recorded. She sings to her cat, shows outtakes from recording sessions and sometimes forgets the words to songs. All of these pieces are captured on video and give the viewer a sense that they are seeing some real and unscripted – a welcome change to all the overly produced and narcissistically perfected music videos available online today.
Use a common language. By starting with doing cover songs that people would recognize, Ana uses the common language of popular songs to introduce herself and her style to her audience. While she does have original songs, if she only had those, her views and audience would likely be far smaller. Singing songs from other artists is a simple way to reduce the barriers that may exist for people to engage with her music.
Find complimentary partners. At several points, Ana partners with other musicians who themselves have large and active YouTube audiences like Maria Zouroudis. These duets allow her to engage another audience outside of her own and introduce herself to music fans who will likely enjoy her music as well because it is a similar style to the other musicians who she partners with.
Ask for help from your community. When Ana finally released her own album, all the videos in her channel used tagging and links to drive viewers of any video to listen to her music and get a copy of it. She also posted a video asking for help in promoting the album and spreading the world. By integrating this promotion with all her existing videos and directly asking for help, she is engaging the community which has supported her over 3 years and asks them to take the next step by talking about her new album and recommending it to others.