There are only two guiding principles for engaging in social media and blogging. You don't need to memorize a book or have years of experience. All you need is to never forget the following two things:
Never pretend to be someone you are not
Never piss off a Search Engine Marketer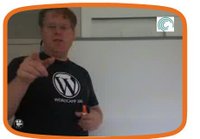 Most people know the first, but not so many know the second. Earlier this week, Robert Scoble unfortunately countered the second and posted a video which he soon admitted contained several inaccuracies and was ill-advised. A part of the video carried on a bit of dialogue that Jason Calacanis once notoriously started with his post back in February of this year calling SEO and SMO "bullshit." Calacanis' post sparked a flurry of angry conversation in the search marketing industry, which is now coming back up again due to Scoble's video about Mahalo (Jason Calacanis' new venture) and dismissal of SEO. Scoble's most significant criticism came from Danny Sullivan (a legend in the search marketing industry) and Rand Fishkin (another very influential search marketer) – as well as from Adario Strange on the Wired magazine blog.
I am not a search marketer, though I did get deep into this world through my ideas and writing about social media optimization and have attended and spoken at several search marketing events like SES in the past. I know that the power of the search marketers mirrors the power of Google. If you are going to say something against them, you better know what you're doing (and have a defensible position) – because when they go against you, it's a high profile smackdown. Combine that with the public nature of being an "A-list" blogger and the challenge of producing good and accurate content quickly and you have the recipe for the storm Scoble finds himself in now. We can't all be right all the time. But trust me on those guiding principles.