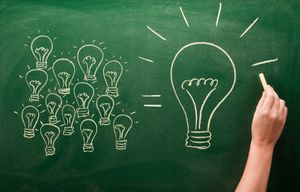 As the full swing of the summer is starting up, if you are in any sort of retail business – chances are you have had to hire or release some of your employees to manage the seasonal flow of business. In other industries, keeping your employees motivated through the summer vacation and daydreaming season will likely become a new priority (if it hasn't already). 
While the summer might bring these thoughts to the forefront of a small business owner's mind, the real question of how to continually inspire your employees to show up for work happy and committed to the job you are asking them to do is one that you should be asking yourself every day.  Though there is plenty of conversation on using social media as a sales tool to help you bring in new customers – how effectively are you using it to inspire the employees that you already have?
Here are a few ideas for how you might effectively use social media to inspire your employees on a more consistent basis – to get the best effort, thinking and performance from them, even during the season of distraction :
Share inspiring content. Whether you find a great article or a powerful video online, creating a culture of sharing content which inspires you can help to do the same for your employees. Whether you use the tried and true method of email to share a link to a great piece of content, or you take the more "social" approach of creating some sort of destination (such as a private group on Facebook) where employees can watch or read inspiring content – both can be great ways of bringing more inspiration into the workplace.
Use co-creation to seek new ideas. Sometimes the biggest barrier to sparking innovation is routine. When employees are challenged to think beyond their roles and share new ideas in some way, it can get new creative thinking to happen and inspire them to think bigger.  So take a lesson from some consumer brands and sponsor your own employee video contest or blogging challenge and see what ideas and voices you get to participate. The upside is that some of these same people may make great voices for your business in social media when you do launch any marketing or external initiatives.
Incentivize employees to attend relevant events. Social media doesn't have to remain virtual and online. There are plenty of organizations and meetup-style events which are often primarily promoted through social media in your region.  Encouraging and even incentivizing employees to find them and go can be a great way to have them learn something and make great connections in the process.