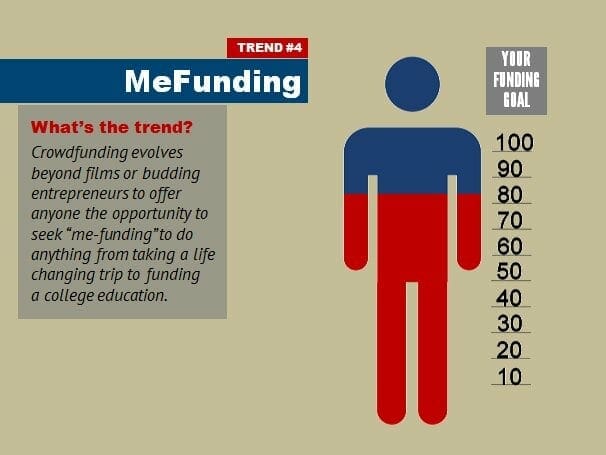 What's the Trend?
Crowdfunding evolves beyond films or budding entrepreneurs to give anyone the opportunity to seek "me-funding" to do anything from taking a life changing trip to funding a college education.
One of the biggest growth areas online last year was crowdfunding – and many "projects" involved helping people to start businesses, or create art projects. In the coming year, a new phase of crowdfunding will help individuals solicit money to help themselves in everything from taking a trip around the world to paying for medical bills for a loved one.
Who should care?
This is a cultural trend that will likely affect all of us in different ways no matter where we live or what industry we work in because you can raise money for yourself or a loved one for anything. In particular, this will be an interesting evolution for nonprofit organizations to watch because it puts the power of fundraising in the hands of individuals, and many people may be likely to use these tools to raise funds related to the issues and causes they care most about.
This trend was featured in my full "15 Marketing Trends In 2013 That Will Change Your Business" report. To see the full report for free online and learn about the ebook action guide for tips on using this trend in your own marketing strategy, visit www.rohitbhargava.com/15trends.