If I named my next kid Jeeves, would I be limiting him to a future career as a butler? What else could someone named Jeeves do? Most marketers understand that names matter for perception, but what impact can they have on actual performance? The past several weeks I have had to rent a car from a number of different providers. Unlike airlines or hotels, where the points I rack up tend to provide a significant incentive to stick with one particular brand … when it comes to car rental I am completely disloyal. For work, I use Hertz because booking with my corporate card, the insurance is automatically included and I get the fast gold service. That is a really significant benefit, because it gets me to rent a car from a brand that I have disliked for a very long time. Someday I'll likely share my disaster stories with Hertz – but this post is about something else.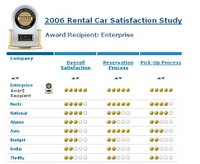 For personal use, my first choice is Avis because I have always gotten good service from them. If the price is relatively equal, I will always pick Avis – as I did this past weekend in Denver. Otherwise, I will go for the cheapest possible car in the right style. Two weeks ago in Detroit, this was how I ended up with an awful experience using Thrifty. All of these rentals got me thinking about the brands I would choose and recommend to others and those I wouldn't. J.D. Power ranks all the major car rental agencies (with the exception of Payless which is apparently so bad it didn't make their 2006 survey at all). Enterprise is the consistent winner for overall customer satisfaction, as the chart at left shows (click chart to enlarge) – but more interesting is the ranking of the brands.
Did you notice that all of the bottom ranked brands have names associated with how cheap they are: Budget, Thrifty, Dollar, and Payless (not even ranked). When your brand name tells your customers that you aim to compete on price, they are unlikely to expect anything more than the cheapest rate. Imagine if other industries did this. Hotels don't … they are named after real people like J.W. Marriott, Conrad Hilton or Berthold Kempinski. Airlines choose nationalistic, geographic or patriotic names – like United, American, Air China or Singapore Air. Even in the low fare category – hotels have brands like Red Roof Inn or Comfort Inn and airlines pick names like Southwest and JetBlue. Each often competes on price, but none brands itself that way. When it comes to travel, cost is obviously a concern … but leading with it as your core selling point and brand doesn't seem to be working. When choosing your brand name, it pays not to confuse a key selling point with the essence of your entire brand.