Greeting from New York and the Future of Storytelling Conference! This week I'm at one of my favorite events of the year learning about the future of VR, interpretative dance and lots more at this wonderful gathering of creative people and innovators. If you happen to be in NY this week, check out their upcoming free FoST Fest with lots of great programming – and check out my article below for some highlights from Day 1 of the event plus several other interesting underappreciated stories that made my radar this week.
Want these insights before anyone else? Join my email list to receive a curated collection of the most under appreciated marketing stories of the week and useful insights like these every Thursday – a full 24 hours before they are published on this blog! 
Highlights From The Future Of Storytelling
For the past five years there is only one event I have attended without fail. The Future of Storytelling (FoST) is a curated day filled with performers, roundtable discussions, and product demos. The result is a multi-sensory mashup of recency that always delivers new ideas. Today started with a projection artist playing guitar, a tap dancer performing with in VR, and ended with Japanese digital dance troupe Enra (pictured) and a marimba-playing Robot. In between, I had the chance to facilitate two sessions with Spotify CMO Seth Farbman about the role of data in creativity where the most interesting insight of the day being Seth's point that story mining was itself a form of data. The entire event reinforced this message – that it is our job as marketers to bring out the stories in our world and tell them with passion.
Emirates Quietly Brilliant New Ad
When you see Jennifer Aniston in this new Emirates ad, she starts off where you would expect – in their amazing First Class cabin. Through a cute story line she follows a little boy back to his seats with his family … and she decides to stay and swap seats with an ecstatic mom. The ad is quietly brilliant for two reasons. Firstly it shows a beautifully human side of a Hollywood star that we all somehow like just a little more because of the Brangelina divorce. More importantly – it showcases the awesomeness of Emirates Economy class seats in an unexpected way. Strategic, cute, fun and timely … this is an example of how to do advertising right.
Why Merriam-Webster My New Favorite Brand Twitter Account
This smart Twitter account does exactly what a dictionary should do on Twitter – teach us something about words and grammar in an entertaining way. The team behind the account got a lot of credit recently for their real-time word use check of the candidates use of language during the Presidential debates. That was only the tip of the iceberg as you'll see with a quick visit to their account … which makes this hands down my favorite Twitter account right now.
Should You Be Excited About Sony's Upcoming VR Headset?
Of all the VR headsets on the market, only a small number come with immersive hand controllers (and they cost at least $800) – until later this month when Sony introduces it's latest Playstation VR headset and controllers for closer to $400. This price point and that fact that it integrates with the Playstation ecosystem will open up plenty of opportunity to finally brings VR into the family room in a big way.
New Candle Smells Like An Apple Unboxing Video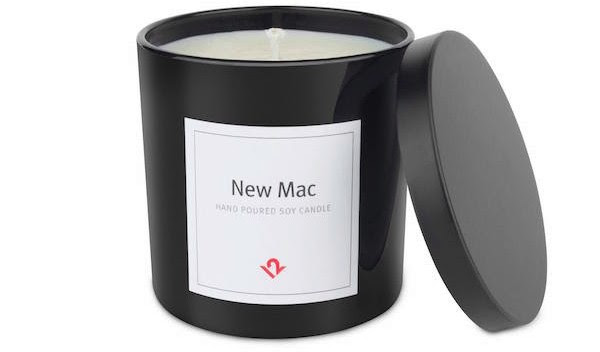 It is hard to imagine a better symbol of our modern tendency to idolize our products than this new candle which will make your entire home or apartment smell like a freshly unboxed Apple product. Just in case you have already upgraded your phone and other devices and miss that smell now you can get your fix anytime you like. Since Apple fanboys are already described as being "religious" in their devotion to Apple, I suppose it was only a matter of time before someone created an equivalent of an Apple-unboxing-flavored incense to complete the ritual.
How Are These Stories Chosen?
Every week I review more than a hundred data sources to curate the best and most under appreciated marketing stories of the week. The aim of this email is to spotlight these "non-obvious" stories, along with a quick take on why they matter for you. I hope you find this email interesting and useful … and am always open to your suggestions on how I might make it better!