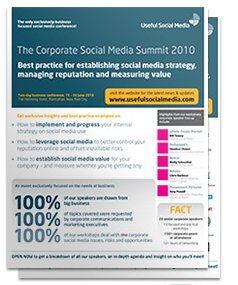 There is a fraternity of communicators at big brands who are pushing their organizations into adopt more social media, and it is a growing list. Our team is often part of their struggle, and we try to play the role of adviser and cheerleader as they fight the internal battles to do new and more engaging work. As many experiences as we get to have, though, there is no real substitute for the lessons that social media evangelists within large organizations can share with one another. When brand marketers get together to talk about social media then real learning usually happens.
On June 15th and 16th in New York City, we are proudly participating in the Corporate Social Media Summit in New York – a gathering of some of the best minds in making social media work within organizations. Here is a list of nearly 20 of the all-corporate lineup of speakers who are already confirmed for the event:
Whole Foods Market – Bill Tolany – Head of Social Media
Adidas – Chris Barbour – Head of Digital Marketing, adidas Originals
PepsiCo – Josh Karpf – Senior Manager, Digital Media Communications
Amy Powell – Head of Interactive Marketing and Social Media – Paramount Pictures
McDonald's – Heather Oldani – Director, US Communications
Nokia – Molly Schonthal – Head of Social Media, North America
General Motors – Connie Burke – Communications Manager
Intuit – Kira Wampler – Social Marketing Leader, Small Business Division
Dell – Caroline Dietz – Social Media and Communities Representative
Citi – Paul Butcher – Head of Digital Media
Johnson & Johnson – Robert Halper – Director, Video Communications
Siemens – Stefan Heeke – Director of Online Marketing
Intel – Suzanne Fallender – Director of CSR Strategy and Communications
Samsung – Esteban Contreras – Social Media Manager
Mars – Lisa Foley – Social Media Manager
Marriott International – John Wolf – Senior Director, Public Relations
The Rainforest Alliance – Jennifer Bass Vogel – Communications Manager, US and Canada
The World Bank – Nicole Frost – Head of Social Media
Virgin Mobile USA – Lisa D'Aromando – Social Media and Communications Associate
Ogilvy 360 Digital Influence – Rohit Bhargava – SVP Digital Strategy
This is not your usual social media event, and for any of our clients looking to learn real social media lessons from brand marketers who are actively doing it right now – this is one of the best events of the year. Better yet, Ogilvy's 360 Digital Influence group will be part of the event as I will be moderating one of the panels on employee engagement, as well as running a unique crowdsourced conclusion session at the conference designed to make sure that all attendees leave with an actionable plan to use the information they learn about at the event in their own day jobs.
If you want to register for the event, we have organized a SPECIAL DISCOUNT OF $500 OFF . Just use the code "OGILVY100" by April 16th and you will get an extra $500 off registration fees. I hope you'll be able to join us for what will be a very unique event!
Note: This blog post was originally posted on the Ogilvy 360 Digital Influence Blog.