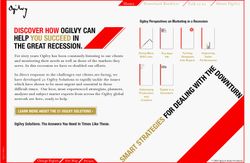 When it comes to selling services in a downturn, sometimes the best message to send is that we are all feeling the same pain. The economy has been extremely tough for marketing, forcing many companies to lower their overall spend, or at the very least to get smarter and more careful about where they spend. That's a big deal for marketing agency like the one I work at because we depend on clients to see the value (as we do) of continuing to invest in marketing during a downturn. Some time ago, the collective Ogilvy network launched a website at www.ogilvyonrecession.com to share an agency-wide point of view on how our clients might strategically weather the storm and optimize their marketing in the process.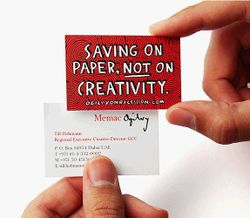 The site features a collection of white papers and thought leadership on how to optimize your marketing strategy in a variety of categories. Yes, you do have to register some details to see them as the site is built for lead generation as much as to share content – but I've seen several of them and the insights within are worth taking the extra step. There was even a great piece over on Behance featuring some promotional business cards that were put together by Leonardo Borges to drive people to the site and bring home the core message that you can save on budget but still keep the big ideas coming. It's a message I definitely associate with. Now all I need is to convince someone to let me get myself some of those business cards.

Disclaimer: I'm definitely biased with this post as it is all about the agency that I work for (Ogilvy) – but I was not part of the team that actually put this site and content together.