This is going to be a great week, with two events coming up on January 14th that I'm particularly excited about and will definitely be worth your time if you can make them. The first is a virtual webinar event that anyone anywhere in the world should be able to dial into, and the second is a fun networking gathering in the Washington DC area for those who live here, or are willing to take a plane, train, boat, monorail or automobile to join us. Here are some details:

"Don't Be Faceless" FREE Webinar: Learn 7 Essential Social Media Techniques for PR Success
Wed, Jan 14th – 3pm to 4pm EST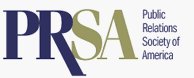 This webinar is one I am hosting for the PRSA and am getting reports from them already that it may be their most highly preregistered seminar ever, with over 2000 sites registered to listen in. As part of the talk, I'll share seven tips on using the personality of your brand to achieve PR success, including several case studies and tips from the book that I've never spoken publicly about. In addition, at the end you'll get a secret link to purchase a signed copy of my book along with 3 other special pieces of bonus content that I've also never offered directly before. Visit this site to learn more and sign up – it is completely FREE.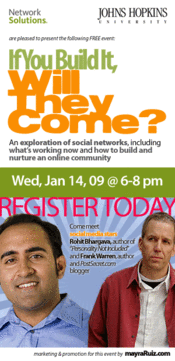 Evening Social Networking With Frank Warren From PostSecret
Wed, Jan 14th – 6pm to 8pm EST (Rockville, MD)
If you haven't visited PostSecret.org, take a moment and click the link. Now imagine you had the chance to meet the custodian of all these secrets. His name is Frank Warren, and I am honored that I'll have the chance to see him again at a networking discussion that Shashi of Network Solutions is organizing for the local blogging community. Meeting and listening to Frank is an amazing experience. You can read hundreds of stories on blogs of how he connects with people through his ability to actually care about other people and offer them a sympathetic ear to tell their secrets without being judged. His is a powerful idea – that sharing a secret can transform your life and the lives of strangers who hear it. When I talk of karma or personality in business, his is an example worth considering. Frank's calendar is packed with big auditorium appearances, and this will be a rare chance to see and meet him in a more intimate setting. Even if I weren't part of this event, I would go just for that … and so should you. Note: RSVP is REQUIRED