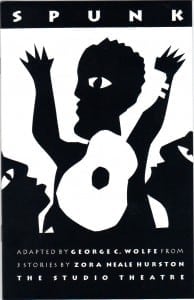 When I was 17 years old, I wanted to be a playwright. Deciding that I was going to try and learn from within, I landed an internship at the well known Studio Theater in Washington DC. It was 1992, and they were producing a show called Spunk – which adapted several short stories from Zora Neale Hurston. A big part of my job was to help with ushering – which is basically helping people to find their seats. And after my job was complete each night, I would watch the production. I must have seen it dozens of times.
Over that time, I was able to see the actors deliver lines in slightly different ways. I watched the audience reaction and how the actors adjusted their mannerisms to elicit more reactions from their audience. There was one night, I remember, that was particularly enthusiastic. People were laughing a bit more and clapping a bit louder. At the end of the show, they offered a standing ovation. The surprising thing about this night, though, wasn't how much people loved the show. It was the fact that it happened to be the understudy performance. The audience was so invested because a much higher percentage happened to be friends and family of the actors, watching them in what may be their only chance to get on stage for the production. Their energy fed the rest of the room.
That night, I learned an important lesson – and one that I still remember 20 years later. Producing a great show is only part of the magic that creates engagement. Of course, the quality of your production will always make a difference. But to get those extra laughs and build that extra emotional intensity, you need something else. And that comes down to building a more human and personal connection to the people behind the art. This was the big idea I shared from the stage today at the National Arts Marketing Project Annual Conference, for an audience of arts based marketers.
As part of the talk, I worked with the team at the National Arts Marketing Project to offer a special bonus – an exclusive ebook based on the points I shared in my time on stage at the event. Here is the ebook available for download:
And in case you'd rather read a short summary, here are the "8 Ways That Arts Organizations Can Be More Human":
Tell The TRUTH
1. Let your audience behind the scenes
2. Share your outtakes
Connect PEOPLE
3. Encourage your talent to be themselves
4. Make connections with the real influencers
Offer An Emotional STORY
5. Embrace your location
6. Dramatize your backstory
Live Your PERSONALITY
7. Celebrate the quirk
8. Create a social voice