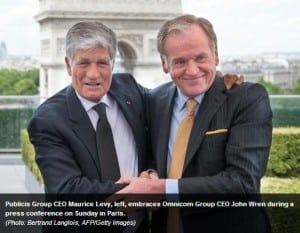 Today two of the biggest communications holding companies, Omnicom and Publicis, announced they will be merging to form the world's largest advertising company. For anyone familiar with the common in-fighting among agencies for limited client budgets, one of the immediate concerns will be the challenges that these new found partners in this "merger of equals" will face in the coming months.
It will certainly take teamwork and the setting aside of egos – but more importantly, the merger is bringing more visibility to one of the under appreciated facts that has plagued any brand working with multiple agencies for the past decade or longer … rivals don't tend to collaborate well with one another.
There are two kinds of collaboration. The good kind allows teams to come up with great ideas. It inspires breakthrough innovation and improves the speed at which anything gets launched. It allows for scale and work that could never be accomplished by a single team alone.
And then there's the other kind of collaboration.
It is ugly, and asks you to lock yourself in a room together. It is an involuntary arranged marriage. And it will take some time to see which type the Omnicom/Publicis announcement will turn out to be. Yet the fact is the merger creates lots of duplication of skills and despite a long history of pitching against one other for business, now former enemies are required to come together and form one big happy company.
Ironically, in the midst of this latest mega agency announcement, clients are left with the same challenge that they have faced for years … how to get typically squabbling agencies to actually work together to deliver good work.
After more than a decade leading teams at two of the biggest marketing agencies in the world – Ogilvy and Leo Burnett (part of Publicis), I know something about working with multiple agencies. There are many pitfalls, as you might expect … but it CAN still work if done right. Here are a few of the things I've learned over the years for getting reluctant partners to work together:
7 Tips To Make Forced Collaboration Work
1. Pick a leader first, collaborate second.
Leadership is the starting point for great collaboration. The most successful multi-agency program I ran several years ago had a chosen leader from one agency – and that person was primarily responsible for making sure the partner agencies worked together proactively. We had weekly briefing calls with eleven speciality agencies (no exaggeration!) and the leader was responsible for ensuring that each had a clear set of deliverables they were working on. Most importantly, this model made life WAY easier for the client, who wasn't forced to play a sort of virtual nanny role every day solving problems of communication or collaboration.
2. Don't underestimate the power of face to face relationships.
The biggest communications problems we had working on multi-agency programs typically came down to virtual communications being taken the wrong way, incomplete emails, or decisions being made in meetings with teams or opinions missing. Sure inviting everyone to every meeting might help, but it's hardly practical. Instead, the people on the team who collaborated best were the ones who knew each other face to face. Even having shared a drink or dinner together improved collaboration, because it made us real people to one another instead of a name at the other end of the phone. Having a team co-located in the same venue is ideal, and works very well for some brands that have the ability to pull multiple agency people into one dedicated team (like the Team Detroit model WPP has to provide services for Ford in Detroit) – but even without co-locating, it is critical to make sure there are enough face to face meetings for team members. It is worth the additional cost.
3. Create one brief, then let multiple work flows happen.
Collaboration doesn't mean everyone has to work together on everything. Different projects may take different skills, and sometimes having only one team in charge of a project in its entirety is the only way to inspire the best work. In any branding or marketing program, there are bound to be multiple tactics requiring different skill sets. The activation team may work on in-store promotion, for example, while the search marketing team is focused on what customers see (and click on) when they search on Google. Those work flows are separate concurrent streams, and can be handled uniquely – as long as everyone is working from the same project brief. One trick we used to use to avoid "death by process" where every agency uses their own slightly different (but mostly similar) project brief was to have one master document that outlined what a client's objectives and priorities were. That way, everyone worked from the same basic information.
4. Make collaboration its own unique success metric.
Typical project success metrics are based on the tactics you use and the effectiveness of your implementation. Instead of conversations or brand lift, though, consider making positive collaboration a separate success metric that your teams are measured against regardless of the project work they deliver. Doing this demonstrates that being a collaborative partner has a intrinsic value that is important to your work culture and atmosphere. It also prevents the common excuse that often agencies will use when confronted with situations where they chose NOT to be more collaborative, and justify it by saying there were focused on providing the best results for the client. The harder it is to separate delivering results from engaging in collaboration, the better.
5. Use strategic competition, to a point.
In an ideal partnership, every agency has a specific skill and there are no overlaps. That almost never happens. Instead, pilot teams, specialty departments, and new initiatives mean that there will always be some overlap among multiple agency partners. Sometimes when you need to select the best team to deliver something, a little healthy competition may be the ideal method to help solve this overlap problem. Giving open briefs to multiple partners on occasion not only can help you find the right team to deliver something, but also demonstrate that your process for selecting teams will be open and fair. The trick is NOT to overuse this tactic, because forcing partners to compete for every small assignment will backfire, causing infighting and a lack of teamwork. Issue a challenge once, select a winner, and then stick with that choice for some defined period of time. This will allow teams to focus on getting work done, and not on "appealing" your decision or trying to undermine the winner.
6. Get unbiased advice.
Finding impartial advice is a tough thing in a multi-agency program. Over time, I've seen many situations where even the most collaborative of agency leaders are under pressure from their own management to maximize how much revenue they are bringing from a particular client for their own particular agency. When I left Ogilvy, I dramatically cut back on consulting to focus on publishing, speaking and teaching. One of the few things I still wanted to do was provide what I called "concierge marketing" for large brands to help solve this multi-agency relationship problem. As a neutral expert familiar with all types of agency models (for over a decade, I worked at agencies delivering advertising, direct marketing, digital marketing, public relations, and social media work) – and as someone who does not have an agency of his own, I started advising brands on how to better allocate work and get more out of their existing agencies. There are other "free agents" like me who do the same thing. Getting the right advice from someone who doesn't have the same bottom line concerns can be vital in allocating work to the right teams, and holding them accountable for results when they deliver.
7. Share report cards and metrics.
When it comes to actual success metrics for a program, it really helps to have all your partners reporting their measurement into a single report card, or dashboard, or spreadsheet, or whatever you use for your program. Aside from simplifying the task of tracking results, it also helps to align every agency team because they each know the metrics they are reporting against and it is visible to all the other partners. The critical part of this is having a combination of shared and individual metrics. It doesn't work if every agency provides their own three metrics into a single rolled up report. Then they are only concerned about maximizing their own metrics. Instead, you need a combination of individual and shared metrics. The shared metrics, like website visits, or customer referrals, or online leads are the ones that bring all the pieces together – and align the full team in the same direction.
Whether you work with a mega-agency with multiple teams, or bring together smaller boutique specialty agencies for a single project, inspiring the right amount of collaboration is always tough … even when you don't have to make it happen among competitors. Forced collaboration isn't always ideal, but it CAN work if you put the right structure around it.
Rohit Bhargava is an independent brand consultant, marketing professor at Georgetown University and author of 4 best selling marketing books on collaboration and building more human brands. He previously led brand and digital marketing teams through leadership roles at Ogilvy and Leo Burnett and has advised dozens of the world's largest brands on marketing strategy, including Intel, Unilever, Lenovo, Kellogg, Nestle, Novartis, and Marriott. He has been invited as a keynote speaker to hundreds of events around the world, and his thinking has been featured in the Harvard Business Review, Fast Company, and the Wall Street Journal.