Every year the SXSW event starts the excitement around planning early by releasing their "panel picker" – an online interface that lists all the panel submission ideas for SXSW along with descriptions and offers anyone the chance to vote or comment on the panel choices. This feedback is then used by the planners of SXSW as 30% of the decisions to finalize all the sessions for the actual event. This year there were 2347 ideas submitted for the Interactive portion of SXSW, with the most popular category being Branding/Marketing/Publicity (of course) with 175 entries. Social Networking was the second most popular with 132 entries.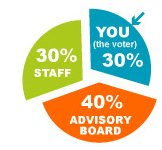 In this vast list, it is hard to find the ones really worth getting excited about. I spent some time in the interface reading descriptions and getting to see some of the common threads. Here are just a few of the more than 2000 entries that I think are really worth getting excited about. Please check them out and offer them your support and votes as well!*
*Note: My method for choosing these panels was based on looking at the presenters and the topics in the panel picker interface. In some cases, I know and have personal relationships with the speakers … but no one solicited me or asked to be put on this list and aside from the two panel suggestions that I personally made (#7 and #25) I have no personal stake in any of these panels.