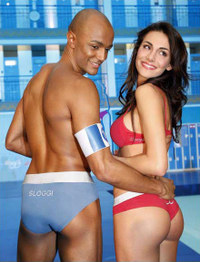 As much of the US gears up for an abbreviated day of work leading up to the Thanksgiving Weekend, I thought I'd share a great marketing idea from our cousins across the pond that never quite made it to the US. It's for an underwear brand called Sloggi – who decided to launch a Miss Universe style pageant search around the world (in the markets they sell, primarily) for the world's greatest butts called "Show me your Sloggis." Men and women sent in their photos from around the world (in Sloggi brand underwear, of course) and the brand had a vote online in every market.
The winners in each market travelled to Paris last week to compete in the live competition, where they crowned two winners (pictured on the left): a girl from Brazil and a guy from France. It's not the Olympics, but having the best butt surely must inspire some national pride, right? More importantly, it's a great way to get people talking (and blogging) about Sloggi underwear. Here are some more photos from the event: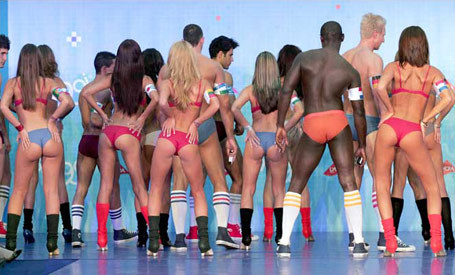 UPDATE: Check out Steve's post over at Adrants on this campaign for more background on a few other promotions the brand has done and more context around this one.