If there's an argument against using a small advertising agency, I've probably used it.
After 15 years leading work for dozens of clients at two of the biggest ad agencies in the world, and participating in close to 100 pitches—I know how to argue against a smaller competitor. Yet for more than a year now, I have become that smaller competitor. I run my own consulting group, and I work with those large agencies as a partner now.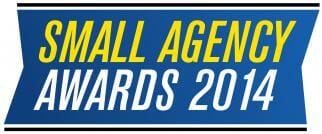 So when the annual list of Small Agency Awards are announced by AdAge, as they were a few weeks ago, I pay a little bit more attention. Not only because I love to see fellow "little guys" achieving great things—but because I'm lucky enough to know quite a few people on the list.
This year, I was inspired by the stories of the agencies. In an industry dominated by giant agencies and rampant consolidation, these tiny players are finding new ways to compete. There were five lessons that stood out as being valuable for any business owner fighting the age-old David-versus-Goliath battle.
1. Create an epic culture.
DiMassimo Goldstein focuses on culture by hosting events from "epic parties offering free permanent tattoos to a monthly 'Offlining Day' where employees detox from devices." Swift, founded by two women, works to lower the stress of agency life with an indoor archery range, karaoke and yoga. Portland-based Roundhouse Agency has even built a pro bono incubator to provide marketing guidance and support for local businesses.
What each of these agencies realize is that people may accept a new job for the work, but they stay for the culture and team. Donut Mondays and Casual Fridays don't create a strong culture. To hold on to your best people, you need to be more … well, epic.
2. Be opinionated.
Almost every agency on the list shares some version of the same mantra: Go beyond TV spots and be a trusted advisor for clients. In most cases, this means thinking beyond just one channel and going outside the traditional role of an outsourced partner aiming to deliver a campaign instead of a solution.Muhtayzik Hoffer and Proof Advertising both prove the most important thing an agency can deliver to a client is a point of view. Are you consistently delivering your point of view—or are you just taking orders and fulfilling?
3. Own a signature event.
When Lindsay, Stone & Briggs first built its reputation, it wasn't based on a stunning creative campaign. Instead, it credits BrandWorks—its pioneering three-day retreat for brand marketers in Madison, Wisconsin—an event that put the agency on the map. At SXSW last year, nFusion hosted the "Cojones Awards" to honor risk-taking and bold-thinking corporate marketers. Both agencies credit their signature events with helping them get on the radar of big brands and build their reputations in the process. The lesson is clear: Sometimes the best way to build your reputation is by owning something public, real and valuable.
4. Work with unlikely collaborators.
iStrategyLabs has produced experiences for the Washington Redskins and Nickelodeon. At headquarters, mechanical and electrical engineers work side by side with designers and copywriters to create new and unexpected experiences. Argentinean agency +Castro brings in collaborators like architects and cardiologists on a project-by-project basis in order to deliver new creative ideas and campaigns. What both agencies know is that sometimes the most creative and groundbreaking work can come from fostering an intersection of expertise instead of just gathering a big group of people who all share the same skill set.
5. Know the signs of bad customers.
At the AdAge Small Agency Conference leading up to the awards, founder of Marketing Mentor Ilise Benun shared four red flags agencies should look out for when deciding whether to take on a questionable client. She noted that chaos, no budget, cluelessness and disrespect are all signs that a client should be avoided. Her list works perfectly for any type of creative services industry, but ask yourself if you have built a similar list of things to look for when considering a new customer for your business. The point is, sometimes knowing who you don't want might be the best marketing strategy of all.
This post was originally published at the American Express Open Forum website, where Rohit is a contributing author.  Read more of his Small Business oriented articles here (login required) >