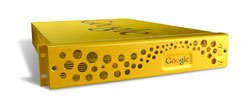 Among the many hidden legs of Google is the enterprise platform search product that they have available for large customers who need a solution that can search hundreds of thousands of documents quickly. In contrast to Sun's desire to give their servers more sex appeal, Google's product design team seems happy to stick with the almost cartoonish look of their servers, counting on the credibility of the Google name to convince customers to shell out $30,000 or more on these school bus colored boxes.
Check out their product description from their website:
The GB-1001 is a rack-mounted two-unit (2U) appliance that can be licensed to search up to 1.5 million documents at a rate of 300 queries per minute. The GB-1001 starts at $30,000 to search up to 500,000 documents.
Compare this with Sun's product description for the T1000:
Triple your performance, while cutting your power consumption by 30 percent. That's the kind of throughput and power savings you can expect from the incredible Sun Fire T1000 Server. If you need massive, horizontal scalability and extreme rack mount compute density, this is the server you've been looking for: A throughput-optimized server with up to 32 threads per processor, all in a tiny footprint – and available at an unbelievably low price.
Combined with the fact that links to Google's product conveniently come up as the first paid search result for queries such as "egovernment" – Sun may not be able to count on the strength of their own brand to carry the day if it ultimately comes down to a head to head competition.