10 Rather
Reasonable Policies
All of the content on this site is produced by Rohit Bhargava. You are free to share with colleagues, cut and paste, or transform into innovative origami as much as you like for your personal use. Please always provide credit or a link back and don't steal content to pretend it's yours or republish with the intent to try and make money on it. It is not nice – and seriously bad karma. Trust me … I'm Indian.
1. Advertising + Guest Blog Post Policy: I don't accept guest posts or solicitations for writing for my blog/email newsletter and I don't run any advertising.  I would love to reduce my current volume of these requests from 8+ per week to zero. You have the power to make that happen. Please use that power.
2. Errors + Omissions Policy: Everyone makes mistakes!  If you find one, please email me and I will do my best to get it fixed as soon as possible.
3. Email-Responding Policy:  I try to respond to emails as quickly as I can and I DO read all my emails personally.
4. Linking Policy: I will always link to the original source for any content or thinking that is mentioned on this site.
5. Commenting Policy: After ten years of blogging with comments, I finally disabled them.  Read more about why on thi page >
6. Cauliflower Policy: Never under any circumstances. Read my "Cauliflower Confession" on this page >
7. Image Policy: Images used are sourced or purchased as stock images prior to use on this site.
8. "Broccoflower" Policy: I think we can all agree there are far better culinary science research projects to sink time and effort into … like performing autopsies on chicken nuggets, for example.
9. Privacy Policy: I like privacy and I think we both deserve it … so I will never share a conversation or any personal details that you choose to provide on this site.
10. List Policy: Lists of policies and terms should always be lovely round numbers, even if you don't really have anything useful to say for the last item or two. Just use filler text if you run into this situation. Most of the time people won't notice. I mean seriously, who reads all the disclaimer policies for a website anyway?
This site features plenty of business commentary and most of it shares a point of view.  Useful insights are often one sided, though I know sometimes readers might disagree with the opinions on this site. I stand behind them 100%, but also try to remain open minded enough to have a conversation about anything, correct any errors, and "agree to disagree" if we must.
I have several trade organizations, startups and nonprofits that I am affiliated with. In the interests of transparency, below is a current list of my professional affiliations:
Georgetown University (Education) – Adjunct Professor of Marketing & Storytelling
Center For Plain Language (Non-Profit) – Former Board of Advisors
LifeFuels (Startup) – Board of Advisors
Glimpulse (Startup) – Board of Advisors
While I don't accept paid advertising on this site, I will occasionally do endorsements for products, services or content that I believe in. At times, I will accept products or books to review and feature. If and when I do accept products to review, I will always disclose the situation with which I am reviewing the products and note exactly what I have received for free and what I paid for out of my own pocket.
I am a frequent traveler, luggage enthusiast, avid photographer, lover of gadgets/technology and father of two young boys. As an author, I also frequently do blurbs, endorsements and reviews for upcoming books.
I am an early adopter websites, products, apps and services. The best way to understand what I may write about is to spend some time looking at my previous blog posts. In addition, I am including a (hopefully) useful list of things I love to get pitched about and things I hate.
What I Will Usually Respond To …
Invitations to private beta stages of sites or apps
First reviews or blurb requests for business or marketing books
Requests to cover innovative marketing campaigns or strategies
Requests to provide endorsements or quotes that will be used for marketing purposes
What I Will NEVER Respond To …
Requests to do a guest post – I don't accept them or provide them
Requests to purchase advertising on my site or in my email newsletter
Announcements of the fabulous new person you just hired
Topics without a marketing or communications angle
Anything promoting evil products or ingredients

A keynote speaker on trends, innovation, marketing, storytelling and diversity.
Rohit Bhargava is on a mission to inspire more non-obvious thinking in the world. He is the #1 Wall Street Journal and USA Today bestselling author of nine books.
Event planners and audiences have described Rohit as "a rare mix of scary-smart," and "a master at weaving stories together." Once he was even described on Twitter by an attendee as "hilarious, like a social media savvy Robin Williams." He is the perfect choice when you want to bring a diverse outside perspective from an engaging speaker with a delivery style that blends inspiration with action.
Rohit has spoken in 32 countries and spent 15 years leading brand strategy at Ogilvy and Leo Burnett before becoming an entrepreneur and founding two successful companies of his own. He loves the Olympics, actively hates cauliflower and is a proud dad of boys.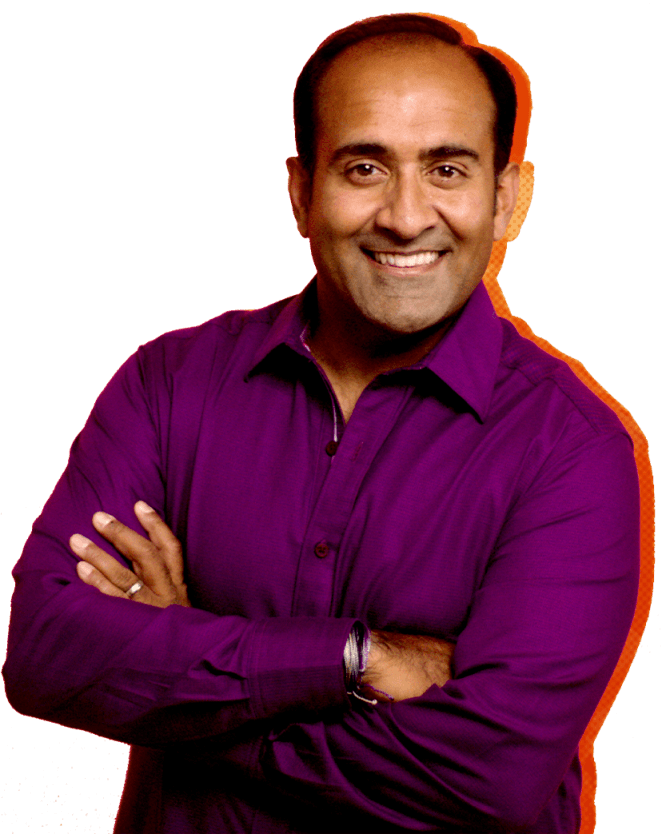 Do you need a speaker that can help your audience be more innovative and anticipate the future?
For more than a decade, Rohit Bhargava has been inspiring audiences at NASA, Disney, Schwab, Microsoft, SXSW, Coca-Cola and hundreds of other clients with his signature non-obvious keynote presentations. He is a master at weaving recent stories into his talks in a way that helps audiences better understand the world today, while also preparing to lead the future.